Do you want to become an SEO expert?
If so, then this article will help you to give a right direction to start your career as an SEO expert. So, what are you waiting for? let's dive into it…
First thing first, Do you have any basic knowledge of SEO?
I heard you say yes! 😉
I make it clear first because this post gonna be a little bit advance. I share a few actionable techniques that exactly I use.
Note: If you are a very beginner in SEO industries, then read this article on SEO.
What does Google love?
Visitor's satisfaction. Yes, visitor satisfaction is the main thing that Google loves.
You have to pay attention to your site structure, page loading speed, content quality, and more. Quality content helps you to increase the site's Dwell time (the length of time a person spends time on your webpage after they click a link on a SERP page). So… you should focus on content quality.
Keyword Research: Based on Bangladesh
Keyword research is one kind of panic while the targeted region is Bangladesh. Most of the free tools can't show the right search volume for Bangladesh. So, how can you find your valuable keywords?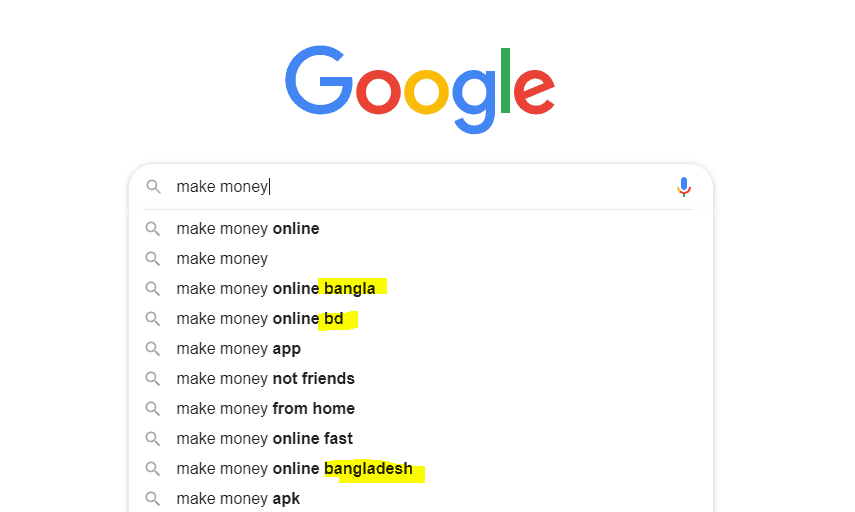 In my opinion, follow Google suggested keyword. Note that suggested keyword and simply head over to Google keyword planner tools. I think this tool is a great option to get the right MSV (monthly search volume) reports for Bangladesh.
Along with this tool, you can use Ubersuggest to get more keyword ideas. Ubersuggest is a great option if you are looking for a free keyword research tool. Unfortunately, there have no option to filter our region (BD).
On-page SEO Guidelines (Step by Step)
1. Keywords Insertion
Probably you already heard that where & how you should put the keyword. Okay, once again…
Put focus keyword in Title, URL, Heading Tag (H1-H6), Meta Description, Content, Image Alt tag + Caption. Make sure you add LSI keywords in your content.
In that case, you can use LSI Graph to get tons of LSI keywords in a second.
2. Image Optimization
Only Image title & ALT tag is not only the best idea to optimize your images. Recently Google declared a few instructions to optimize your images.
Use high-quality images
Relevant placement
Add captions
Provide descriptive page title and Alt text
Add descriptive file name (for example, "funny-cat-image")
Fast Image Hosting
To boost image load speed, you can use Jetpack/other lazy load image plugin and an image compression plugin like ShortPixel Image Optimizer, Smush, Imagify.
Suggested WordPress Plugins: JetPack, ShortPixel Image Optimizer.
3. Keep URL Short
Try to make your URL short (if possible) and descriptive. If you target a long-tail keyword, better to put the full keyword.
4. Internal & External Linking
Try to use more internal linking. This signal tells Google, how helpful your post is. On the other hand, make sure you add a minimum of 3-4 external links (w/ authoritative website). Also, the external link should be nofollow & dofollow mixed.
5. Optimized Title
Create an optimized high CTR title. Add special characters, numbers, or an emoji. Try to make your title eye-catchy and super engaging by using a few POWER words. The power words create more interest among the searchers to click on your result. Power words example below,
Best
First
Before
Fast
Double
Ultimate
Insane
Private
SHH!
Secret
Final
Extra
Head over to CoSchedule Headline Optimizer. This tool helps you to create an actionable title for your page/post.
6. AMP Version
Create an AMP version of your page/posts. That will increase mobile visitors to your site. Google loves fast loading website and this tool helps you to get loved by Google.
If you are a WordPress user, install a plugin called "AMP for WP – Accelerated Mobile Pages". This plugin is very flexible and SEO friendly. This plugin has installed over 100,000+ and installing more day by day. Also it has 4.5-stars rating from 908 people.
I actually use this plugin in all of my sites. I hope you like this one too, why not try it today?
Off-page SEO Guideline (Step by Step)
1. Link Building
You can create backlink through guest blogging, blog comment, profile backlink, etc.
Now it is quite difficult to build quality backlinks. Difficult but not impossible. Now I share a few tactics on, how to create quality backlinks?
Medium: Use Medium.com to build backlinks. They provide nofollow backlinks but if you write a post on this platform, and luckily its ranks, then there is a great chance to get tons of traffic.
Quora: Quora is the most popular question-answer site. They have 300+ million active users per month. Quora backlinks are also nofollow but it is another good chance to get quality traffic to your website.
HARO: Haro stands for "Help a Reporter Out". If you are looking for the best opportunity to build an authority backlink, this is your best option. But you should add quality resources with your content. Don't try to scam. Because this is a top-notch platform, so be unique.
Process: Create a free account in HARO on the topic you like most. They send you 3 emails daily. Just check the email > find the solution > send the reports with resources (your site link).
2. Social Media Marketing
Social share is another great ranking signal in SEO. So make sure you are active on the social platform regularly and share your stuff. To become an SMM or an SEO expert, you should focus on the Facebook platform. Most of Bangladeshi are actively using Facebook. So it is definitely the best platform. Take a look at the report below.
Do you want to learn more? Check the full news here.
Technical SEO Guideline (Step by Step)
1. Schema Markup
Schema helps Google to understand your website and content. There are lots of schema markup out there. The most common schema markup is the Article, FAQ, Recipes, How-to and Breadcrumbs. A few WordPress themes & SEO plugins contain this schema tag initially. Have a look at the popular schema tag.
Breadcrumbs

Article

Events

Fact checks

FAQ

How-to

Job Postings

Logos

Q&A

Recipes

Products

Videos

Datasets

Unparsable structure data
Dominate in this section properly, if you are trying to be an SEO expert. Just head over to schema.org for more schema examples and guidelines.
2. XML Sitemap
Use an SEO friendly sitemap. If you are using an SEO plugin (like Yoast, Rank Math, All in One SEO Pack, etc.), a sitemap is automatically created. You just modify it from your plugin settings.
3. SEO Friendly Robots.txt File
You can use the basic format of the robots.txt file. Take a look…
As you can see, Rand Fish (the co-founder of Moz) uses a simple robots.txt file in his blog. By the way, you can customize more as you want. Just edit the file from your plugins area or upload the new file in the root folder.
Use robots.txt generator if you confused to create a file. Just head over to Google and search "robots.txt generator", you'll find lots of generator there.
Also, you can embed your sitemap link below the robots.txt file.
4. Fix Broken Link
Use "Check My Link" browser extension or "Screaming Frog" tools to find out the broken links. After that, fix the links immediately.
5. Google Search Console
Add your site into Google search console. It will take a few steps to get verify your site. After verification is done, head over to the sitemap section and add your sitemap properly.
It takes approximately 24 to 48 hours to index your website. Remember that, it will take a few weeks to fully index. You should check the site report daily because if you have any error occurred, then take action to solve it immediately.
6. Mobile-friendly Site
Make sure your site is mobile-friendly. It is very important for your website's SEO signals & visitors. Check your site's mobile friendliness through Google's Mobile-Friendly Test.
7. Site Loading Speed
Try to keep your site's full-page loading speed under 3 seconds. This is another good signal for higher ranking. Take a few steps to make your website faster, Listed below:
Use a CDN (Cloudflare is a better option)

Lazy Load Images Plugin (Jetpack is not bad)

Use Caching Plugin (I prefer "WP Fastest Cache" plugin)

Image Compression Plugin (ShortPixel is the best one)

Install "Autoptimize" Plugin (to do the rest)
If you are not able to do this, then contact w/ Digital Rid. You can make your site faster by using their service. The service is affordable and good quality.
Essential Plugins: Every Website Owner Must Use
1. SEO Plugins
Yoast SEO or Rank Math SEO, use any of them. I prefer Yoast SEO because their built-in few free features are pretty awesome. I know Rank Math has tons of free features but I faced a few problems with their built-in sitemap. Anyway the choice is yours. 😛
2. Google XML Sitemaps
If you are not want to use SEO plugins default XML sitemap, then I recommend "Google XML Sitemaps" plugin. This plugin already installed over 2 million times and a 5-star rating.
3. Redirection
Do you want to redirect any page or post, and track 404 errors, then this plugin is awesome. It helps your website SEO's.
4. Schema & Structured Data for WP & AMP
Add schema markup is very simple to use this plugin. But this plugin has a few restrictions. I recommend you to add schema markup manually.
5. Site Kit by Google
This is an official WordPress plugin by Google. It helps you to manage Google Search Console, Analytics, Page Speed Insights, Adsense, Tag Manager, and Optimize reports in one place.
Install this plugin, if you want to monitor your site data easily and faster. This plugin helps Google to analyze your site and authorize the site identity.
6. Jetpack
This is very popular all in one pack plugins. You'll get tons of awesome features for totally free. They have a premium version too.
7. Autoptimize
It is one of my favorite tools to optimize any website speed. Everyone should install this plugin. I highly recommend it.
8. WP Fastest Cache
If you are looking for a free caching plugin, I suggest you use this one. You can integrate with Cloudflare or other CDN for free. Actually, I'm using this plugin since 2018. But the most popular premium caching plugin is WP Rocket. If you have enough money to invest, then WP Rocket is the best decision.
9. Accelerated Mobile Pages
If you enable the AMP version on your page/post, it has a good chance to rank higher your results in mobile users. In that case, I prefer this plugin because this one is very easy to use and tons of free features.
10. Akismet Anti-Spam
This plugin is by default installed on every website. It helps you to block spam comments. Make your blog post safe & clean.
11. Better Click to Tweet
When it comes to tweeting any post, I recommend this one. It is very easy to use and SEO friendly. It helps users to share any content very easily.
12. LuckyWP Table of Contents
If you are looking for standard looking and SEO friendly "Table of Content" plugin, I suggest you use this. Even I'm using this one in this post. You've already seen this top of the page.
13. Classic Editor
For now, Gutenberg is by default editing plugin in WordPress. But Gutenberg is new in the market, that's why many plugins are not compatible with it. So the best option is, use the "Classic Editor" plugin.
14. UpdraftPlus – Backup/Restore
Use this plugin to save your site data. Easy to use and safe plugin. Every website should install this one.
15. WP External Links
This plugin helps you to manage your external links. You can add nofollow, noreferrer, UGC, sponsored tag very easily. I definitely recommend this plugin.
There are tons of useful plugin out there. Just head over to the WordPress plugin directory for more.
Recommended Free Themes for Everyone
In the WordPress theme directory, you'll able to use lots of themes for FREE. Now I'm going to include a few popular WordPress themes. Check this out…
Astra

Neve

GeneratePress

OcenWP

Hestia
GeneratePress
Colibri WP
Powerful Tools in SEO purpose
Ahrefs
Semrush
Long Tail Pro
Moz
Google Keyword Planner
Screaming Frog
Small SEO Tools
Browser Extensions for SEO Purposes
SEO Quake
SEO Minion
MozBar
Keyword Surfer
Check My Links
Salary & Opportunity of an SEO Expert
As an SEO expert, you can earn approximately 7,000-85,000 BDT per month from Bangladesh. Otherwise, if you provide your service internationally through a freelance marketplace, you can earn up to 10,000 USD per month.
As a beginner, you can make $150 per month on the freelance marketplace. So you have to learn all the categories of the digital marketing sector to make more online money.
Become an SEO Expert (Step by Step Guideline)
Click To Tweet
What is Best Marketplace for an SEO Expert
Here I'm going to introduce a few freelance marketplaces. I prefer the Fiverr marketplace. Because it is beginner-friendly. Now Upwork is very strict and you need to invest money to get any project. If you want to make more money, then you can try the remote job platforms.
Upwork

Freelancer

Fiverr

SEO Clerk

Guru

Toptal

People Per Hour

Flexjob

Craiglist (Remote Job)

Glassdoor (Remote Job)
In this sector, you can follow a few experts.
1. Nasir Uddin Shamim
2. Khalid Farhan
3. Brian Dean
4. Rand Fishkin
5. Nathan Gotch
I just include my favorite experts. 😉
Best Training Institute to Become an SEO Expert
To become an SEO expert, you have to take a course on it. Recently I published a post on the IT Training Center in Bangladesh. Where I include a few top IT training institutes. If you are in Dhaka, then I suggest you visit their office. And follow their Facebook official page for more information.
BTW, are you live in outside of Dhaka? If so, check out the training center near you and visit their office. After that check the SEO training module. If you think the course module is perfect and the price is reasonable, then take the course.
If you intend to take an online SEO course, then you can choose Warriors BD. They help you to build your career as an SEO expert. You'll get live class, supportive recorded video, premium tools, themes, and more.
Before enrolling in an online course, you can visit our Digital Marketing Facebook community.
A Few Common FAQ
How long it takes time to be an SEO expert?
It depends on you. In my opinion, if you give the positives effort daily then it takes approximately 3 months.
Can I Learn Full SEO On The Internet?
Yes, you can. However, it is quite difficult and will take more time.
Conclusion
Congratulations, You've read the entire article. Now I can say that you're a serious guy who wants to really be an SEO expert.
Just give your positive efforts. SEO experts always need to update with Google. So you have to follow a few SEO blogs. And join in the Google Webmaster Community. This community is very helpful and you'll learn actionable tactics from there.
My final word is, "If you stuck in any step, just head over to YouTube & Google" or keep connected with my blog. Tons of resources out there, just you need to grab them. Be patient, and focus on learning. I hope you will make it.
Let me know, your opinion in the comment section below. I love to hear from you. And best wishes to you, to become an SEO expert. Take care and stay focus on learning. Bye-Bye. 🙂